Uma Thurman is a single from Fall Out Boy's sixth studio album, American Beauty/American Psycho. Released on January 12, 2015, the lyrics and music were written by Patrick Stump, Pete Wentz, Joe Trohman, Andy Hurley, Liam O'Donnell, Jarrel Young, and Waqaas Hashmi. The song prominently features sampled theme music from the television series The Munsters (1964–66) and lyrics celebrating the character actress Uma Thurman, famous for films such as Pulp Fiction and Kill Bill. It debuted at No. 1 on the U.S. iTunes chart on its digital release, peaked at No. 22 on the Billboard Hot 100 charts, and was certified 2x Platinum by the RIAA in December 2015.
Music video
Edit
The video premiered on VEVO on April 17, 2015. Its premise is contest winner "Sarah" spending the day doing chores for the separate band members as well as pranking them by joyriding and speeding in Trohman's McLarengiven the keys by Wentz. Sarah mostly spends the day with Wentz doing some shopping, wearing bandanas in a gang-esque stickup, riding a dune buggy, playing paintball, flying in a windtunnel and crushing a pickup truck with a M1 Abrams tank with "UMA" painted twice. Sarah also does karaoke with Stump and does a workout with Hurley. The video, like "Irresistible", references Stump's hands being chopped off once again. The video includes cameos by Big Sean, Action Bronson, Brendon Urie, Big Data and MAX.
On October 26, 2015 Uma Thurman discussed the song on the Today Show. Uma said the band asked her for permission to use her name in the song. She said "I said sure! It's very, like unbelievably polite and gracious of them. So sweet. I'm so happy for their big success."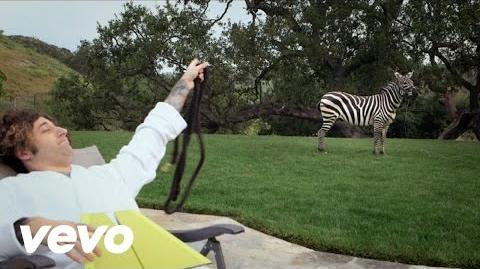 I can move mountains, I can work a miracle
Work a miracle, oh oh
Keep you like an oath, may nothing but death do us part

She wants to dance like Uma Thurman, bury me 'til I confess
She wants to dance like Uma Thurman and I can't get you out of my head
The stench, the stench, of summer sex and CK eternity, oh hell yes
Divide me down to smallest I could be, put your, put your v-v-venom in me

I can move mountains, I can work a miracle
Work a miracle, oh oh
Keep you like an oath, may nothing but death do us part

She wants to dance like Uma Thurman, bury me 'til I confess
She wants to dance like Uma Thurman and I can't get you out of my head
The blood, the blood, the blood of the lamb is worth two lions but here I am
And I slept in last night's clothes and tomorrow's dreams
But they're not quite what they seem

I can move mountains, I can work a miracle
Work a miracle, oh oh
Keep you like an oath, may nothing but death do us part

You'll find your way, and may death find you alive
Take me down the line, in Gem City we turn the tide
You'll find your way, and may death find you alive
Take me down the line, in Gem City we turn the tide

She wants to dance like Uma Thurman, bury me 'til I confess
She wants to dance like Uma Thurman and I can't get you out of my head

I can move mountains, I can work a miracle
Work a miracle, oh oh
Keep you like an oath, may nothing but death do us part
I can move mountains, I can work a miracle
Work a miracle, oh oh
Keep you like an oath, may nothing but death do us part